Incomplete Quest Page
This Quest page is incomplete.
If you would like to contribute, please make sure that any uploaded content does not breach our policy and that it follows our Manual of Style. We cannot guarantee the accuracy of any uploaded information until it has been monitored.
Use this Guide in adding content. Please remove this notice once you have updated the Quest page.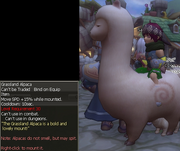 Through this quest players are able to obtain a mount, the Grassland Alpaca.
It is added to the player's quest log at level 13, but the player must reach level 16 to complete it.
Ad blocker interference detected!
Wikia is a free-to-use site that makes money from advertising. We have a modified experience for viewers using ad blockers

Wikia is not accessible if you've made further modifications. Remove the custom ad blocker rule(s) and the page will load as expected.