Bard Class Skills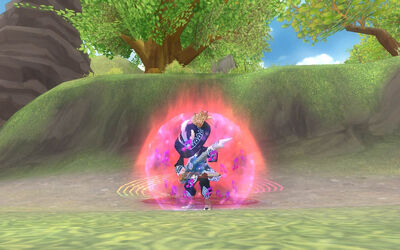 | | | | | | | |
| --- | --- | --- | --- | --- | --- | --- |
| Icon | Name | Lv | Type | Weapon | Cast Time | Description |
| | | 5 | Magic Attack | Guitar | Instant | Damages the target, has a chance to knock down target if Earth Shock is on the target. |
| | | 10 | Party Buff | Guitar | 2 sec | Increases M-ATK of party members around you for 12 sec. |
| | | 15 | Party Buff | Guitar | 2 sec | Increases P-ATKof party members around you for 12 sec. |
| | | 20 | Party Buff | Guitar | 2 sec | Increases EVA and DEF of party members around you for 12 sec. |
| | | 20 | Buff | Guitar | 1.5 sec | Increases target's Move SPD for 15 minutes. |
| | | 25 | Magic Attack | Guitar | 2 sec | Deals DPS and decreases DEF of targets for 12 seconds in a designated 20 ft area(x3 stack) |
| | | 30 | Party Recovery | Guitar | 2 sec | Heals every 3 sec. for 12 sec. all party in 40 ft. area around you. Stacks 3 times |
| | | 40 | Party Buff | Guitar | 2 sec | Increases P-CRIT and M-CRIT rates of party members around you for 12 sec. |
| | | 50 | Party Buff | Guitar | 2 sec | Increases healing amount and healing recieved of surrounding party members within 40 meters for 12 seconds. |
| | | 60 | Party Buff | Guitar | 3 sec | Decrease damage taken of surrounding party members within 40 meters, also makes them immune to sleep, lasts 8 seconds |
Skill Info
Edit
Bard's skills, although much like Cleric's skills, differs in that Bard skills focus on mostly offensive buffs, while Cleric skills focus on buffs that keep the party healthy and alive.
Music of LifeEdit
This spell applies a buff that heals every second but does NOT do any direct healing, unlike a Cleric's Holy Radiance.
Bard's only two offensive damaging class specific skills are Burning Metal and Vocal Bomb. Both of these skills are  Magic types.
Ad blocker interference detected!
Wikia is a free-to-use site that makes money from advertising. We have a modified experience for viewers using ad blockers

Wikia is not accessible if you've made further modifications. Remove the custom ad blocker rule(s) and the page will load as expected.