Ad blocker interference detected!
Wikia is a free-to-use site that makes money from advertising. We have a modified experience for viewers using ad blockers

Wikia is not accessible if you've made further modifications. Remove the custom ad blocker rule(s) and the page will load as expected.
Magician: The magician is the second of the two starting classes and they are masters of every element. A truly wise magician will study the weaknesses of each monster and player and unleash the elemental power necessary to focus and exploit them. Their powers allow for immense burst damage, reasonably strong damage over time debuffs and devastating area of effect attacks.
Magician Class Skills
Edit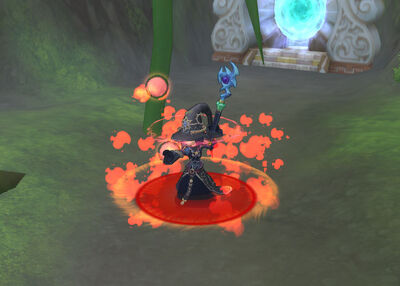 Magician Class Skills
Edit
| | | | | | | |
| --- | --- | --- | --- | --- | --- | --- |
| Icon | Name | Lv | Type | Weapon | Cast Time | Description |
| | | 1 | Magic Attack | None | Instant | Increases M-ATK by X points. Deals Lightning damage to an enemy and has a 25% chance to Knock Down an enemy under the Winter Chill effect. Lasts 5 seconds. |
| | | 5 | Magic Attack | None | 2s | Increases M-ATK by X points. Deals Ice damage to all enemies within 20 feet and immobilize them for 3 seconds. |
| | | 10 | Buff | None | 5 sec | Instantly teleports you and any party members in the same map back to your Checkpoint. Cannot be cast in combat. |
| | | 15 | Magic Attack | None | 2s | Inflicts X Fire damage per second to a 20-foot target area for 12 seconds. |
| | | 20 | Buff | None | 2.5s | Grants you an Ice Shield for 30 seconds, increasing your DEF X point. Also has a 20% chance to Freeze an enemy that attacks you, reducing its Move SPD 30% for 6 seconds. |
| | | 25 | Buff | None | 1.5s | Increases a target's Fire, Ice, and Lightning Resistance 10 points for 30 seconds. Also deals X bonus Fire, Ice, and Lightning damage. |
| | | 30 | Debuff | None | Instant | Lowers a target's Fire, Ice, and Lightning Resistance X points for 18 seconds and reduces the target's P-Healing X points. |
| | | 40 | Buff | None | Instant | Conceals you instantly. While Invisible, you recover MP X every 2 seconds. |
| | | 50 | Buff | None | Instant | Increases magic attack for 12 seconds. Can be stacked 3 times. Effect only good for one attack, then is removed. |
| | | 60 | Magic Attack | None | 6 seconds | Attacks targets in a designated 20 meter area with fire damage and causes additional fire damage every second for 5 seconds. |
Skill Info
Edit