Warrior Class Skills
Edit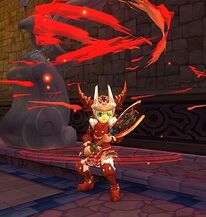 One of two starting classes. Relies on heavily fortified and upgraded heavy armor to absorb maximum damage in combat. An ideal class for players to become accustomed to Eden Eternal.
Class Skills
Edit
Icon

Name

Lv

Type

Weapon

Cast Time

Description

1

P- ATK

Melee

Instant

Increase P ATK by X. Instantly charges target and stuns them for 2 seconds.

8 second cooldown

5

Buff

None

Instant

Increases max HP and healing done to you for 30 sec.

10

Self Buff

none

instant

Increases DEF points for 30 seconds

15

P- ATK

Melee

Instant

Increase P ATK by X. Has a 50% chance to deal bonus damage to a enemy twice.

25

P- ATK

1 Handed

Instant

Damages an enemy and incites a high amount of malice.

30

Self Buff

Shield

Instant

Reduces P-damage taken for 12 sec.

40

Debuff

Melee

Instant

Frighterns all nearby targets below a certain lvl into Fear for a few seconds. Also decreases their EVA.

50

Buff

Instant

Increases physical damage and max HP for 10 seconds, effect only activates if you are attacked within 20 seconds of initial cast

60

Debuff

Instant

Increases your physical damage and causes surrounding targets in a 20 meter area to take extra damage and to attack you, damage effects last for 6 seconds
Skill InfoEdit
After target has been stunned, the target cannot be stunned again for 30 seconds.
Credits to KOAGER for Inherent Talent, Liscene, Stats, Early Skill tree images.
Ad blocker interference detected!
Wikia is a free-to-use site that makes money from advertising. We have a modified experience for viewers using ad blockers

Wikia is not accessible if you've made further modifications. Remove the custom ad blocker rule(s) and the page will load as expected.