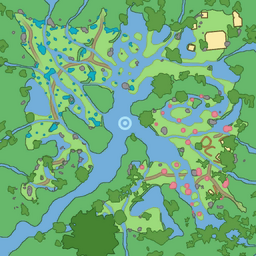 Wetlands (Chinese: 古老溼地, "ancient wetlands") is the level 30–33 area on the central continent. It contains the Wayward Camp, the Branda Root 3-player dungeon, the Malice Palace 5-player dungeon, and the Dika Expedition regional fame faction.
Wetlands is connected by portals to Beluga Bay (25–29) to the east, Valley of Kings (34–37) to the north, Avila Volcano (38–41) to the northwest, and Golden Plains (42–45) to the southeast.
Completing the "City in the Bog" quests awards the Study Plants or Kill the Monsters achievement and the Qualified Explorer title (INT +13).
Completing the "Magic Water Source" quests awards the Devil in Branda Root achievement.
Completing the "Branda Root" quests awards the Guardian of the Wetlands achievement and the Guardian of Branda title (WIS +13).
Completing the "Clues" quests awards the The Disciple and Demon Light Cream achievement and one of the three Ice Meteor Shards.
Completing the "Malice Ruins" quests awards the Salvation of Doubledoor? achievement and the Master Explorer title (LCK +13).